Freewind Sports was founded in 1997 to design, develop and produce sporting goods. Among the Sporting Goods Suppliers, Freewind Sports could be an outstanding firm of sporting goods because of customers' satisfaction. Since the foundation of the company, we have gained valuable experience as a result of the devotion to innovation, safety and customer service. Freewind continues to make every effort to manufacture and distribute newer and better products.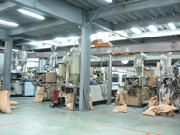 As the international sporting goods suppliers, we export our products worldwide. The high quality product, competitive price, fast delivery, and our sincere services have made this brand, Freewind, to be famous and reputable in the global sporting goods suppliers market. We supply the sporting goods include nordic ice skates, roller skis, cross skates, multi-function bindings (patent-owner in
Taiwan
,
China
and
Germany
), snow skateboard, snowboard bindings, snow goggles, sports sunglasses, helmet, carabiners and more.
Rich production experience and strict quality standards are the norm in every department of our factory. We work in cooperation with foreign enterprises to meet consumer demands by producing products that are stronger, safer, and more comfortable. We believe in our products so we offer our customers a 100% satisfaction guarantee.
Freewind also welcome the companies who have interest in OEM or ODM work.
Promotional Products
(Please go to Products page for more categories)